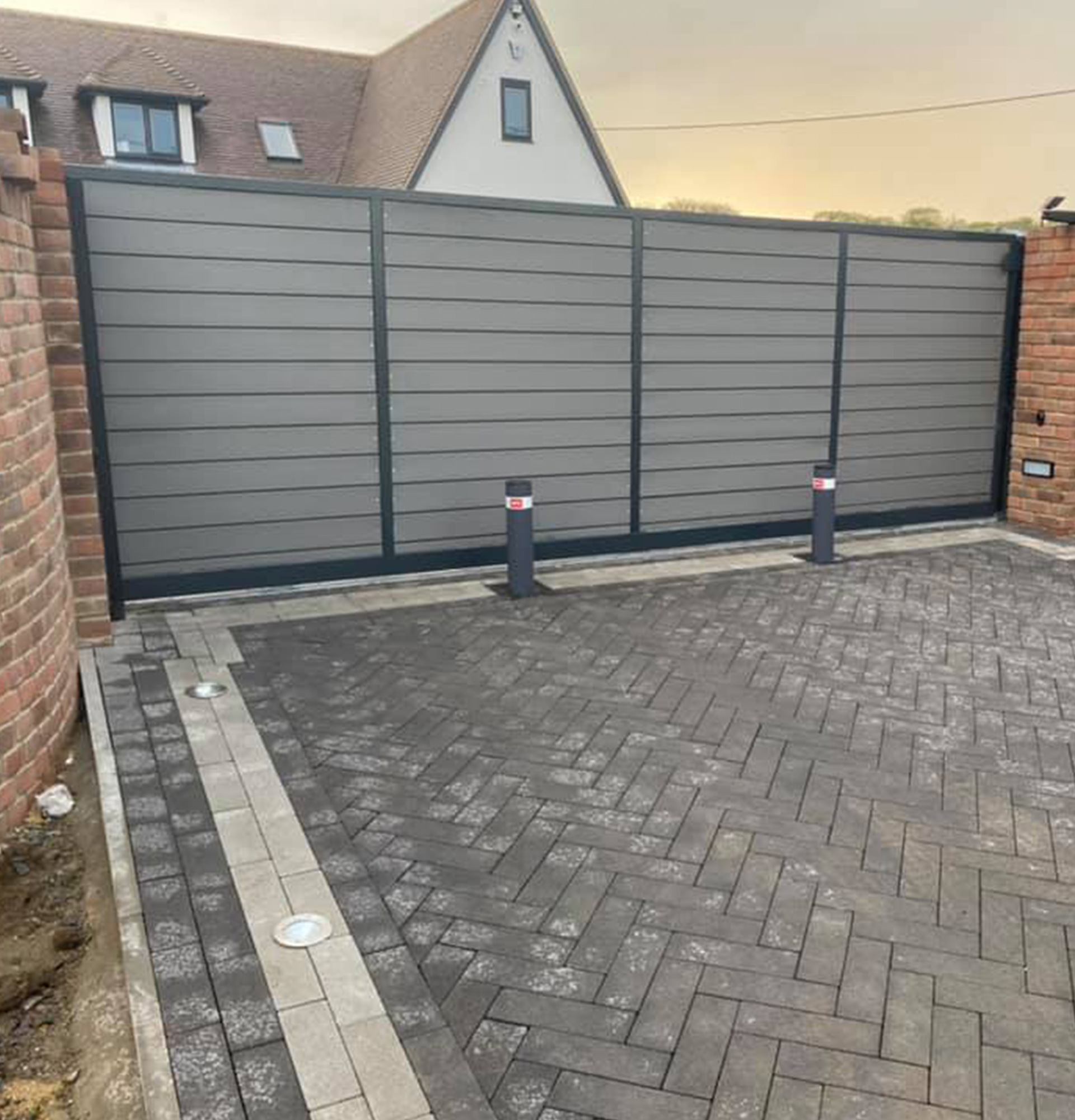 Automatic Gates, Barriers and Doors
What are Electric Gates & Barriers?
Electric gates and rising barriers / car park barriers are an automated method of opening perimeter entrances for vehicles and pedestrians.
The system comprises of a physical gate(s) or barrier, a motor or operator, control enclosure, safety devices and entry / exit devices.
Types
Swing Gates
Sliding Gates
Rising Barriers
We can retrofit automation to existing swing gates. We also offer risk assessments and twice yearly maintenance with certification.
There are strict safety standards for these systems and we are proud to be accredited by the GATE SAFE. Aware installer no: 1743
We offer wooden or metal gates, including fabrication and installation.
We can offer metal fencing fabrication / installation also.
Range of decorative / ornate styles available.
Remote opening facility available.
Various entry facilities to provide high security to your home / business.
Prevents unauthorised parking for your premises.
We install new systems and can also repair and maintain existing electric gates and barriers systems.
We also offer an emergency call out service to release gates / shutters.

Some Reviews
Testimonials

St Benedicts Catholic School – Colchester
Eastwood Security have a team of knowledge and flexible engineers who provide good advice and seek out the best possible solutions to any issues. The team is responsive to our needs, always happy to answer questions about their work and provide good value for money.

Warwick Estates
I have used Eastwood Security on multiple sites for door entry, CCTV and gate maintenance. I have always found them very responsive and quick to resolve any issues while keeping costs competitive for our clients and customers. I would happily recommend their services.

Mr Doug Kieran
These guys know what they are talking about. They specked and installed a cctv and alarm system for us and we could not be happier.
They were clean, tidy and very professional. I cannot recommend them enough.

Matt MacGregor
Give Eastwood Security Systems a call. They have done two medium size jobs for us, and I would recommend them to anyone, give it a try.

Samantha Rank
Been looking for a company to fix an entry door system, after failed attempts by another company.
Amazing service got the job done thank you.

Paul Lanning
This professional company installed the Security and Camera system today on our property. We have to say what splendid work they did very tidy indeed and a pleasure to chat with. I would highly recommend Eastwood Security Systems to those who are considering Security for their home or business. Well done lads keep up the great work.

Margaret Cooper
We were very pleased with the alarm and CCTV fitted by Eastwood Security. The work was carried out very professionally. They also put the system on both our mobiles and explained how to use everything thoroughly. Would recommend them to anyone who needs this type of work done.

Joanne Miller
Super guy, we had a service but also had a fault with the internal sounders.
Lots of head scratching but final found the fault and sorted it for us.
Cost was as per original quote for service. Highly recommend and will certainly be using for our servicing from now on.

Jamie Davis
Fantastic service. They kindly popped round and provided a free consultation on the works required. He provided expert advice on offering a solution to our issue. Kind, friendly, and excellent job. We will certainly be passing his details on and coming back to him if we need any further help.

John Murphy
Recently has some security bollards installed.
Would absolutely recommend Eastwood Security Systems, they arrived on time, done a fantastic job, really neat and tidied up after themselves.
If you're local to the area and need some security products, give these guys a call, great service and it's good be able to support a local business.

A.Crickmar
Lost our internet connection and these guys were there to fix it within the hour, even though it was after hours. Service second to none. Highly recommend this company!
Had our intruder alarm installed at the beginning of March, but wanted to give it a few weeks before leaving my review. I've found Eastwood Security Ltd extremely professional and helpful to deal with, from getting a quote, having the alarm fitted and setting up a maintenance contract. The work was carried out with minimal fuss and mess by Sam and explained in simple terms so that we are able to use it and feel safer in our home. I would highly recommend this company if anyone is looking to have an alarm fitted. Many Thanks from us both.
Eastwood Security Systems have been extremely helpful and responsive, they visited our site swiftly found the issue, ordered the part and returned to fix it without any issues. They have been really communitive in their quotes, when they are going out to fix it etc etc. Would highly recommended using their services we will be and are now top of our list of contractors to use.
Very good and efficient company to deal with, they keep to their appointments and polite
Matt Macgregor
2022-03-31
Give Sam a call at Eastwood Security System. He has done two medium size jobs for us and I would recommend them to anyone, give it a try.
These guys know what the are talking about. They specced and installed a cctv and alarm system for us and we could not be happier. They were clean, tidy and very professional. I cannot recommend them enough.
Was recommended by this firm by a friend and they lived up to my expectations i had 4 cam system fitted to my house and an alarm system the work was expertly fitted by Sam and Adam they put the cctv on 3 phones an ipad they explained all i needed to no even when I called them a week later when I got a new phone and they came round to put the cctv on that no extra charge I would recommend this firm very happy customer thankyou very much

Contact Us
Get in Touch With Us
Please feel free to get in touch for help with your needs. We will get back to you ASAP.
Send Message
Contact With Us